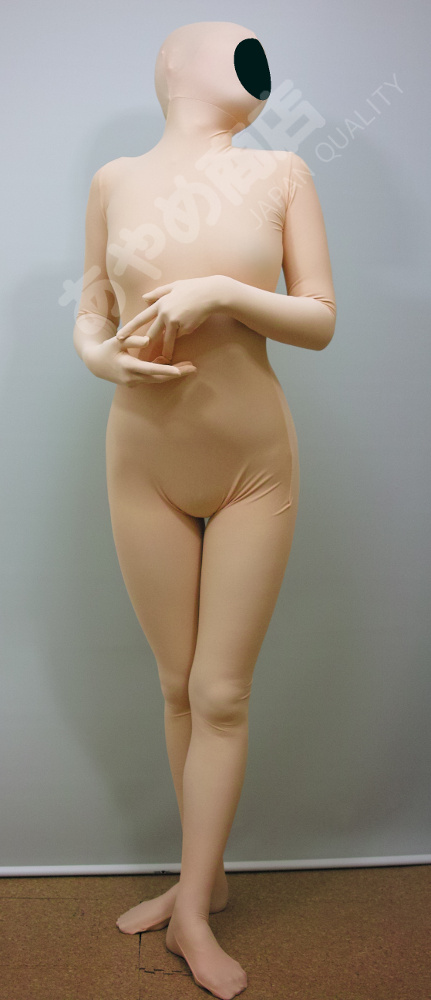 At the Ayame Store, we specialize in offering exceptional quality bodysuits produced solely in Japan.
When people hear about "Bishojo" Kigurumi cosplay, they tend to focus on the "masked" aspect of the performance. For the Ayame Store, the mask is just the "cherry on top". From our perspective, the bodysuits is the definitive feature that forms the essence of Kigurumi cosplay. When compared to the visual impact of a Kigurumi mask, the bodysuits does not instantly stand out. However, it is this uniquely deceptive level of quality that we aim to achieve.
With over 20 years in business and making absolutely no compromises for quality, we hope you take this opportunity to enjoy our masterfully created products of Japanese workmanship.
The Ayame bodysuits are the standard among the standard in Japan
Japan is where kigurumi originated from, and it holds the largest user population in the world. Within Japan, our bodysuits are utilized the most, and we hold the utmost shares in the industry. Of course, the bodysuit industry has competition within Japan, and there are cheaper international suppliers. Additionally, the open Japanese market allows any Japanese personnel to buy a bodysuit.
However, our bodysuits still hold the utmost shares. Why is that?
As increasingly precise fit because we start with the pattern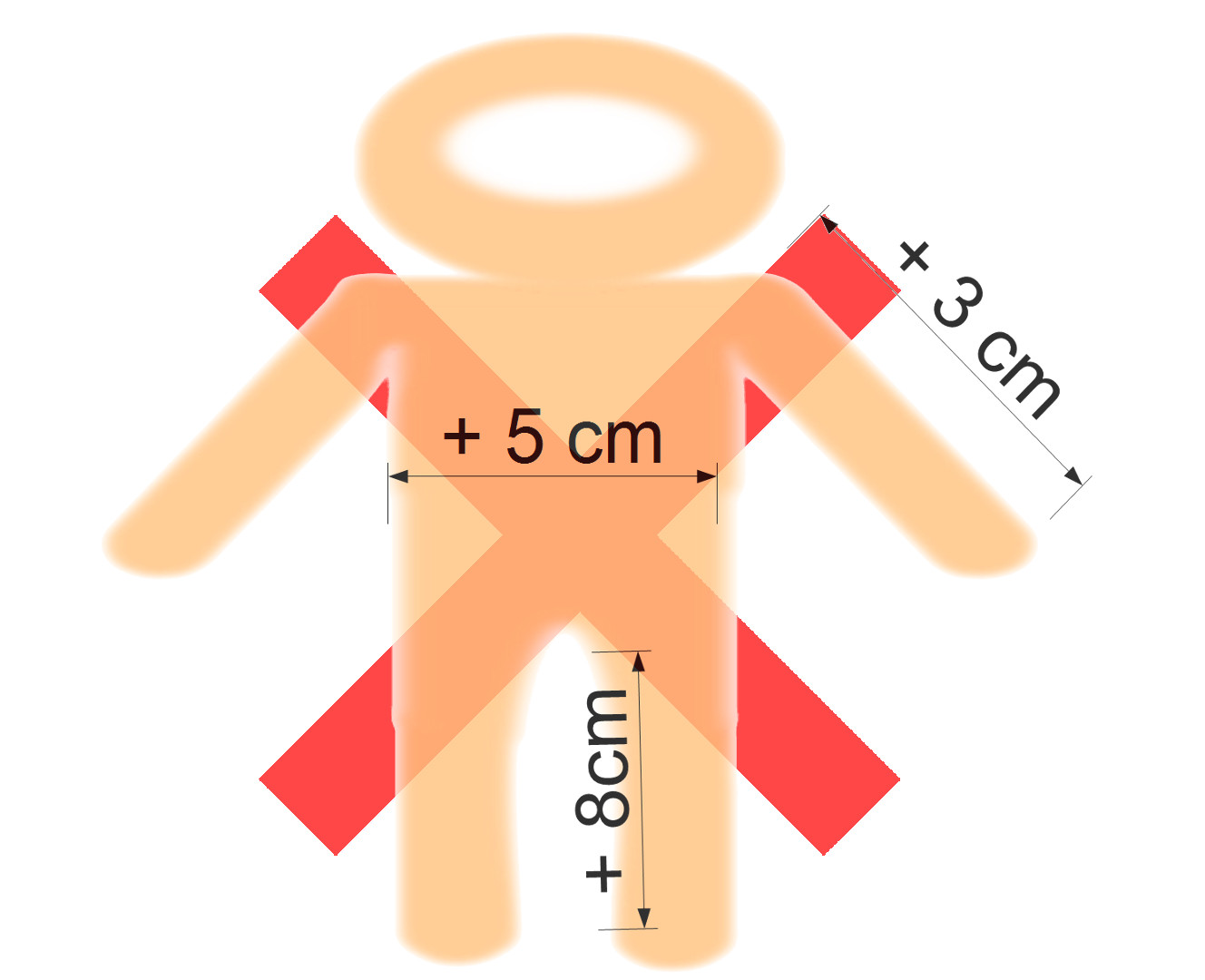 Up until today, "full order made" meant the adjustment of
Arms +3cm
Waist +5cm
Legs +8cm
on a ready-made bodysuit, where the length is "forcibly" stretched. Because the fabric of the suits elongate, many manufacturers feel that a slight patchwork assembly is okay. If you manufacture them this way, due to the forced expansion,
the fabric becomes more transparent, and the typical problem of visible body hair arises.
if you were to add breast pockets, the back zipper may not close…?
⇩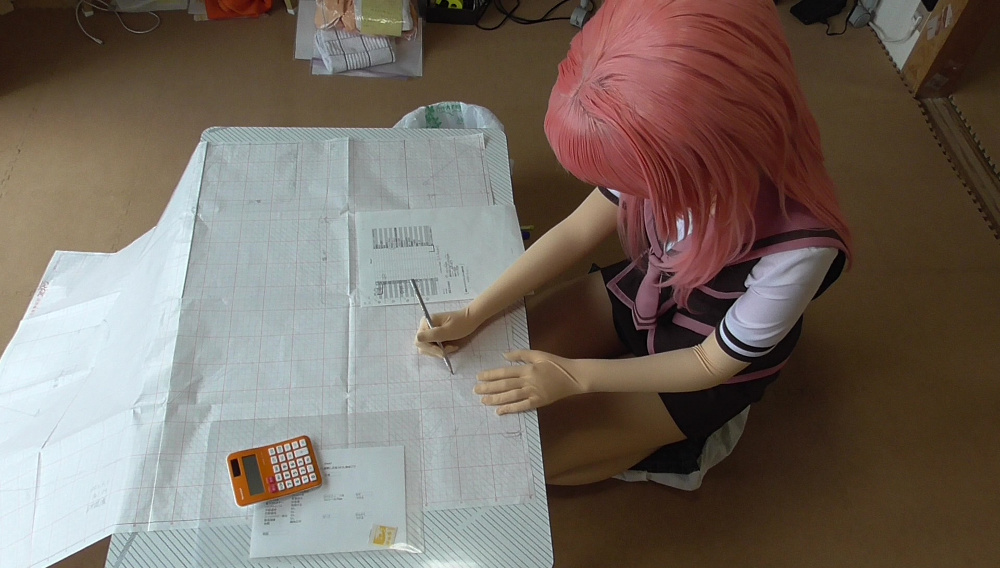 On the other hand, our store creates a pattern specific to each and every one of our customers. Because it is a bodysuit pattern, added labor and cost is required for a perfect fit. Please take a look at our gloves too. When you hear adjustments for gloves, you're probably thinking about finger length. But, at our store, we also take into consideration the "thickness" of the fingers.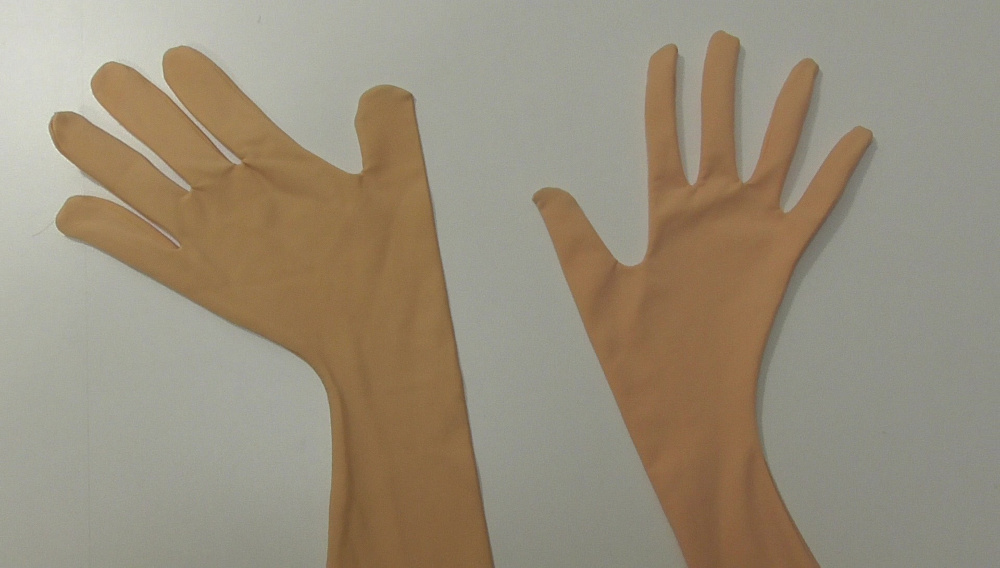 Please also check this page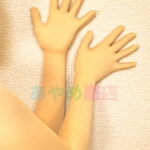 A completely fitted glove
The tights securely wrap around your wrist.
More real than breast pockets
Breast pockets also originated from Japan. An authentic stich looks like this. The Japanese breast pockets are tightly made so that there are no wrinkles at the center.
Also,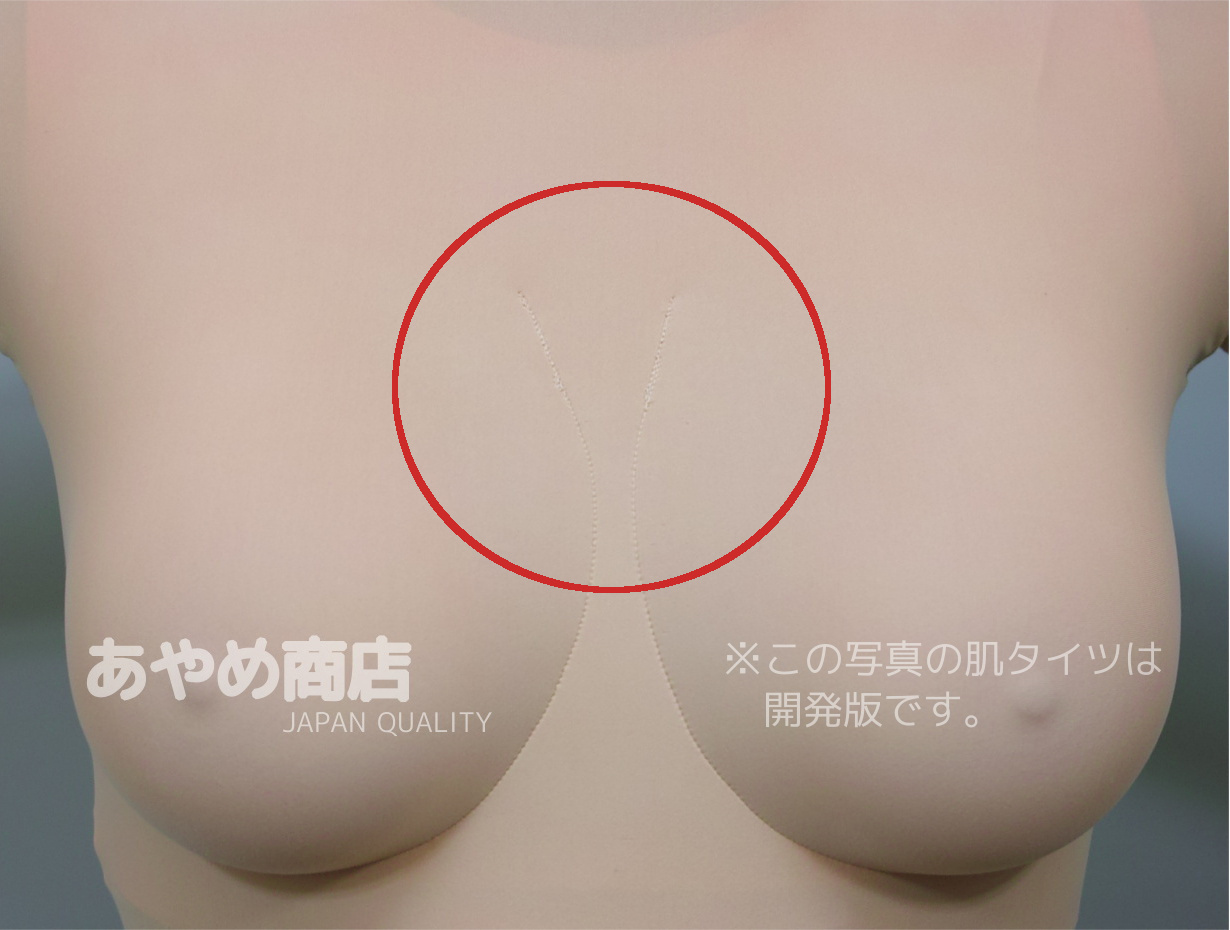 have you ever had the seam in the circled red section get frayed? There were a lot of feedback regarding this problem in Japan and has been made stronger against fraying.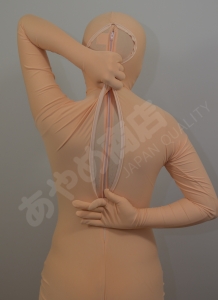 One more thing, have you ever had a problem with zipping up a breast pocket zipper? No problem! The zippers at the Ayame Store have skills incorporated in them to allow you to fasten the zippers by yourself.
>> Even more customization options!
Choice fabric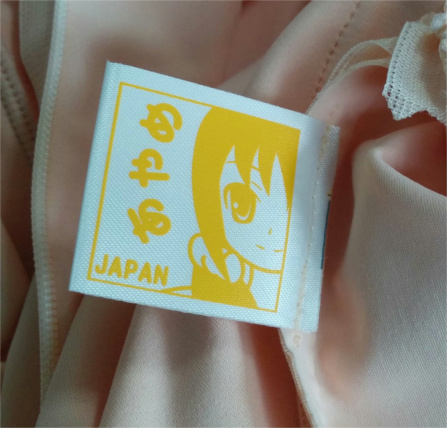 In Ayame Store we're using a lot of different fabrics, but the number, which we can sell overseas is limited.
DOLL ... bodysuits that has mastered "beauty". Currently, the flagship fabric.
MIYABI … Available only on Japanese language website.
Choice color
■#1,■#2,■#4,■#5,■#6,■#7
Customization options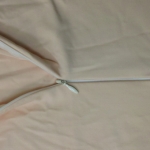 Choose a zipper
Have you ever had trouble fastening a zipper on your own? What? You get help? That's not good. The zipper at the Ayame Store has been planned to be fastened by on your own. Ayame tights zipper can stretch. We recommend it for those who cannot turn their hands to their back.
>> Even more customization options!
How do we work?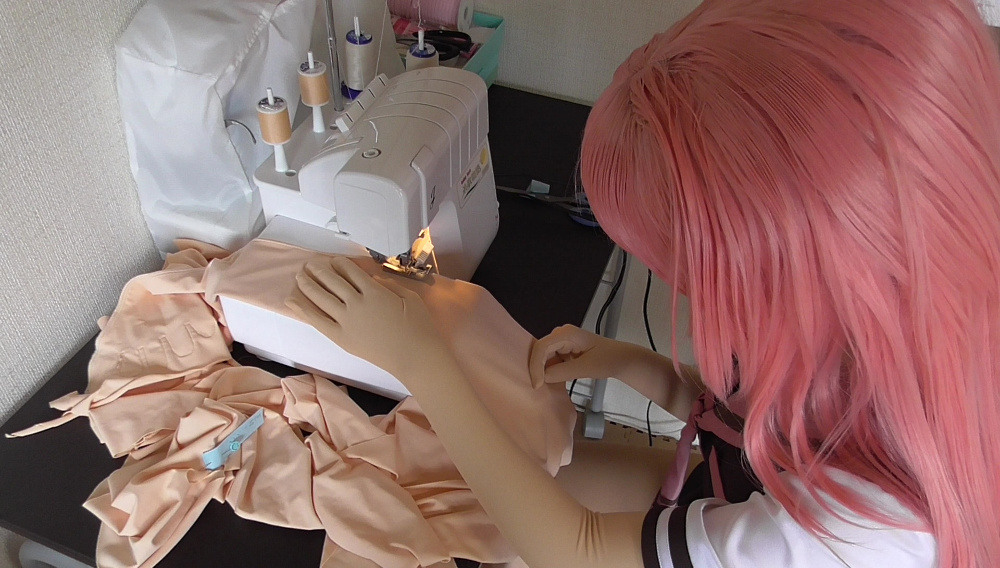 In a traditional factory, a one bodysuit is made by different persons:
a person responsible "only for arms"
a person responsible "only for neck"
a person responsible for combining all parts together
etc.
Because it's a very simple work, everyone is able to remember it quickly and it makes overall production costs lower. But it has also its demerits. For example, in case of someone's mistake, it's impossible to find out which part is inferior. Furthermore, since the bodysuits use stretch material, mistakes cannot be seen from the outside when the different body parts are forcibly connected. In other words, it's impossible to find out where bodysuit has defects in quality.
 As the answer to all the problems above, in our shop a single person is responsible for a single client's order.
 This way costs become significantly higher, but in case if there is something wrong with the product, it becomes clear who is responsible and where the mistake has occurred.It's a compromise between responsibility and costs, so we are able to serve our clients the best products possible.
 Please also read pages below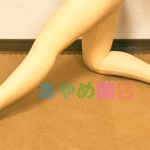 For a beautiful skin, a minimal seam construction
There is no doubt, that there is no other shop which sells bodysuits with such a small amount of seams like ours.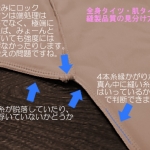 How to recognize a good quality sewing
The reason behind the bodysuit longevity.
Inspection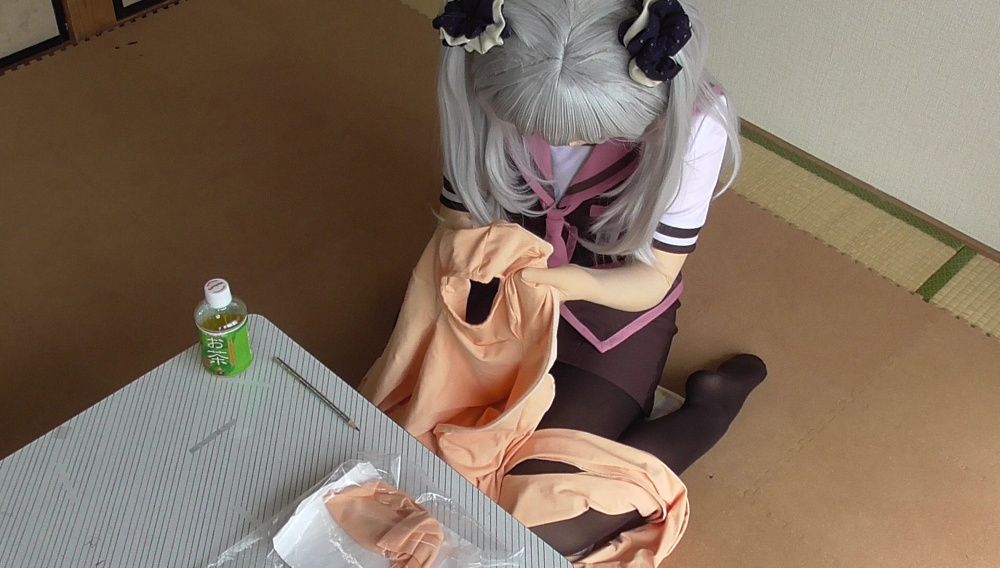 When sewing is finished, we do inspection. One by one, we check every bodysuit thoroughly, in case if any threads are missing. Just for this double-check process, we have a different person take charge instead of the person responsible for sewing the suit.
… And that is everything what you need to know regarding the ordering process.
Product Lineup
(23900 JPY + Customization fee + EMS shipping fee ) + Handling Fee(4.2%)
First you have to choose the size between tailor-made size or fixed size. In case of the tailor-made option, we have to ask you to submit your measurements and airmail the shape of your right-hand, which can be taken by tracing your hand with a pen.
PayPal is the only accepted method of payment.
Bodysuits options page was added.
Information regarding estimated times for product delivery.
If you would like to place an order, please send your inquiry to us by e-mail and we will guide you through the ordering process.
All international orders are shipped by EMS.
Prices do not include local sales tax, EMS shipping charges, handling Fee , and other costs (eg. foreign exchange transaction fees, import duties, etc.) which are the responsibility of the customer.